Negafile Systems™ was founded in Easton PA in 1939 by an Engineer and amateur photographer enthusiast looking to design a functional preservation and filing system for photographic negatives and prints, hence the Negafile System™ was created. The strength and durability of this product is derived from the corner-lock construction, this and the attractive acid free mahogany hardwood gives the files their furniture quality look and archival storage capabilities.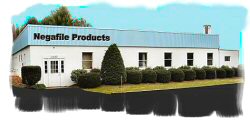 The first file designs were created to store 2x2 slides and 120mm film. The files were offered in two groups; the stackable file drawers and portable file boxes.
Recognizing a need for additional protection and a recording system, glassine envelopes, acetate sleeves and Kraft envelopes were incorporated into the files along with numbered index tabs and dividers. Through the popularity of this system grew additional customer uses to now include; Electron Microscopy, Stereoscopic and Lantern Slides, Laboratory glass slides, View Masters, Stereo Cassette, Philatelic, Coin Collectors and the Computer/Music CD.
To further accommodate our customers needs, Electron Microscopy Sciences distributes the Negafile Systems™ along with packaging and preservation products to service the needs of the industrial packaging user.